Rib lath is popularly known as Expanded Rib Lath, due to its process of expanding of metal sheet. Galvanized steel ribbed lathe offers ideal building material for plastering base, structural formwork and fireproofing construction.
Ribbed Lath made of galvanized steel has anti-corrosion properties and allows for smooth application of coatings such as plaster. Ribbed Lath offers an adaptable, low cost and efficient solutions for a wide range of construction requirements.
Material: Galvanized steel expanded metal sheet.
Patten: Ribbed herringbone pattern.
Firmwin supplies both regular ribbed lath and hi ribbed lath.
Exported to: Germany, Poland, Ireland, Malaysia, Singapore, etc.
Forms of supply include riblath sheet and processed forms.
EXPORT TYPES
Galvanised Steel Rib Lathe for Singapore Market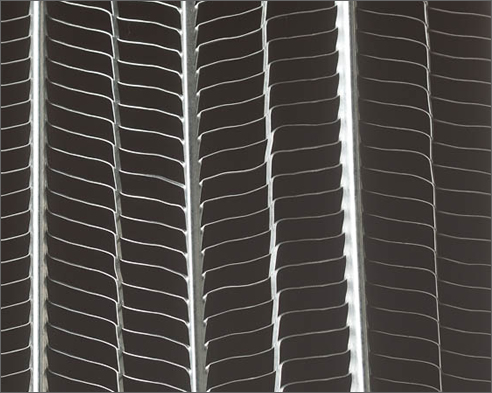 Ribbed metal lath wire, Hot Dip Galvanised, for exterior applications
Specification: 600mm width, 2100mm length, 0.25mm thickness
Material: Galvanized mild steel
Standard Type 3.4 Rib Lath, with paper-backing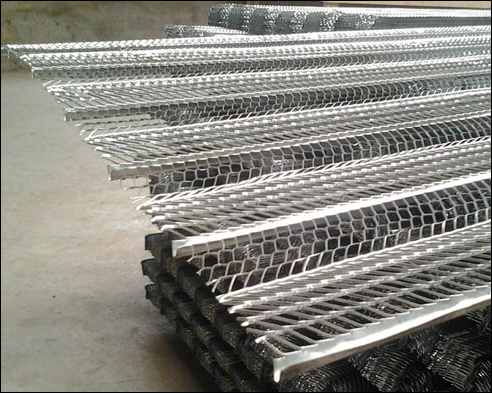 Specifications for USA: 3.4 Rib lath, 3/8" Ribs, HOT-DIP GALVANIZED
Size options: 0.3 mm x 0.6 m x 2.5 m
Different lb.s/sq.yard available
Rib Lath, Euro Standard
Specification for Germany:
In 2500 mm x 60 mm sheet size
Rib depth: 4 mm
Thickness: 0.3 mm
Packing: 10 Pieces per Bundle.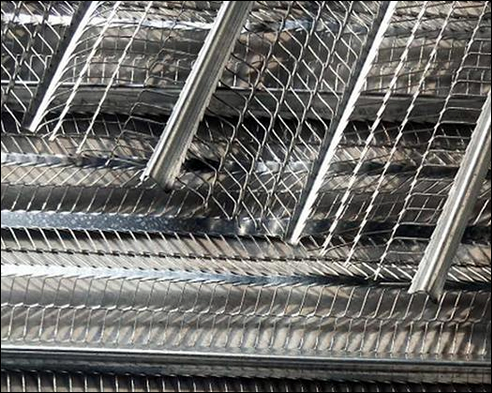 Expanded Metal Ribs, formrib for concrete construction: 27" x 97" sheets 26 Gauge thickness.
3.4 1/8" Flat Rib Lath
Specification: 3.4 1/8" , galvanized
Paper-backed in either K (Kraft) paper, or with D paper.
Exported to Haiti
HDG Rib Lath, Hot Dip Galv. After Expanding, 27" x 96" Sheet
Material: HDG Steel Sheet
HD Galvanization type: After punching
Quality: ASTM-A653
Specification:
Weight: 11.9 lbs. per sheet
V-Ribs: 3/4 inch deep, 3 7/8 inch on center
Lath width: 27 inch
Lath length: 96 inch
Length options: 96 inch, 10 feet, 12 feet
Packing: 250 sheets per pallet
16x11 Rib Lath
| | | | | | | |
| --- | --- | --- | --- | --- | --- | --- |
| Models | Rib Lath Thickness | Mesh | Rib height | Rib distance | Kg/m2 | Width of sheet |
| MGRL-30 | 0.30 | 16X11 | 8 | 150 | 0.85 | 600 |
| MGRL-35 | 0.35 | 16X11 | 8 | 150 | 1 | 600 |
| MGRL-40 | 0.40 | 16X11 | 8 | 150 | 1.14 | 600 |
| MGRL-45 | 0.45 | 16X11 | 8 | 150 | 1.28 | 600 |
| MGRL-50 | 0.50 | 16X11 | 8 | 150 | 1.43 | 600 |
NOTE: ALL DIMENSIONS ARE IN MILLIMETERS UNLESS OTHERWISE STATED
Galvanized Iron Riblath, Sheet 0.6m x 2.4m
Riblath Material: Galv Iron
Specification: Thickness 0.25mm
Sheet size: 0.6m x 2.4m
Hole Size: 8.5mm x 24mm
Rib height: 8mm
Rib distance: 100mm
Cold Rolled Iron Rib Lath, Sheet 0.6m x 2.4m
Material: Cold Rolled Iron
Specification: Thickness 0.25mm
Sheet size: 0.6m x 2.4m
Hole Size: 8.5mm x 24mm
Rib height: 8mm
Rib distance: 100mm
DRAWING REFERENCES
Design Illustration of Hot Dipped Galvanised Rib Lath
Product Details:
Material: Q195/SGCC
Min. tensile strength: 270N/mm2
Finish: HOT-DIP GALVANIZED
Length: 2200±3mm
Thickness: 0.28(+0.05/-0.02)
Weight: 1430G/PC

Details per design reference and sectional drawing attached
CHOOSING RIBBED MESH LATHE ACCORDING TO RIB HEIGHTS
Comparing 1/8" and 3/8" rib lath:
Rib laths have two popular rib heights, 1/8" flat rib lath and 3/8" rib lath.
3/8" high rib lath is designed for horizontal forming applications. It has seven longitudinal ribs, each 3/8 inch deep and eight small flat ribs to provide additional rigidity. The herringbone mesh pattern provides excellent bonding of the stucco to the lath for ceiling and soffit installations.
1/8" flat rib lath has 1/8 inch small ribs at the outer edge of the sheet allows for a smooth overlap reducing plaster cracks at the laps.
COMMON SPECIFICATIONS
Rib Lathes, 5 Rib, 7 Rib and 9 Rib Design
Rib Type
Thickness(mm)
Rib Distance(mm)
Weight (KG)
Width X length(mm)
7 Rib
0.30
100
1.79
610 X 2440
0.35
100
2.09
610 X 2440
0.40
100
2.38
610 X 2440
0.45
100
2.68
610 X 2440
0.5
100
2.98
610 X 2440
5 Rib
0.30
150
1.31
610 X 2440
0.35
150
1.53
610 X 2440
0.40
150
1.75
610 X 2440
0.45
150
1.96
610 X 2440
0.5
150
2.17
610 X 2440
9 Rib
0.30
75
1.89
610 X 2440
0.35
75
2.28
610 X 2440
0.40
75
2.53
610 X 2440
0.45
75
2.84
610 X 2440
0.5
75
3.15
610 X 2440
STANDARD EXPORT PACKING
All our rib lath products are properly packed for sea transportation.
Standard packing:
10PCS/bundle with GI wire binding at 4 sides
5 bundles with 3 metal straps
1000 pcs per pallet
Custom and special packing upon request.
INSTALLATION OF RIBBED LATH
Rib Lath provides plaster / stucco backing for concrete walls.
In fixing of the rib lath, the ribs should be held firmly against the background by the use of fixings placed at 600 mm centres.
Fixing of lath following BS EN 13914-1:2005 Internal Plastering and BS EN 13914- 2:2005 External Rendering, or other equivalent standards, for example: ASTM C841.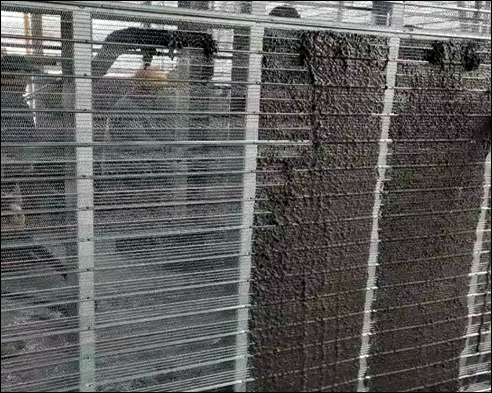 Galvanized expanded rib lath applied for interior wall plastering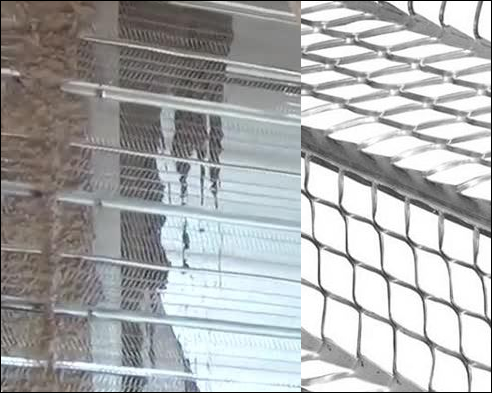 ASTM Standard Rib Lath Installation
Materials: Hot Dipped Galvanized Steel
Plate thickness:0.3mm-0.6mm
length: 27"
width: 96"
rib distance: 100mm
zinc coating: 80G/M2
Size and Packing:
Sheet size can be 27''x96'',10PCS/bundle,3.4lbs Per Sq,Yd,

Product & Installation Standards
ASTM A653
ASTM A924
ASTM C841 (Installation)
ASTM C847
BS EN 13914-1:2005 ( Installation) for internal plastering
BS EN 13914- 2:2005 ( Installation) for external rendering
RIB LATHE PRODUCTION LINE
Automatic rib lath machines for our own production, also for export: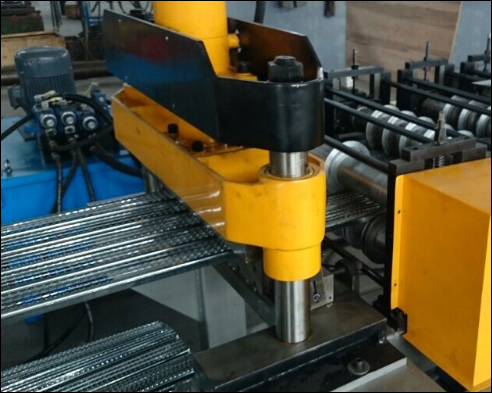 Equipment for 2.5 lbs 3.4 lbs expanded formwork lath for dry walls plaster and stucco
TERMINOLOGY / LEARN MORE ABOUT RIB LATH FOR PLASTERING AND STUCCO
What is Ribbed Metal Lath
Rib lath is a versatile expanded metal lath fabricated with evenly spaced strips of solid metal. Comparing with wire mesh plastering lath, expanded metal ribbed lath has stiffened ribs and greater tensile strength that rendering excellent plaster base and reinforcement for all types of walls,ceilings, partitions and fireproofing systems.
Rib lath is ideal for proving a high degree key of mechanical bonding with render or plaster.
Features of Ribbed Lath
Good mechanical properties and low lateral pressure;
The special mesh structure allows visual inspection of the pouring work, by observing the pouring process, the risk of pores and beehives can be reduced;
Light dead weight, convenient transportation and installation;
Optimized process and increased shear interface;
Permanent formwork can bond the next cast concrete without the need to disassemble or make joints, thus simplifying interface preparation.
Ribbed Structure
Rib lath is made of steel strips cut and stretched by specially designed rib lathing machines;
A completely jointless expanded steel mesh design;
Made of pre-galvanized strip or 304 stainless steel;
A special mesh and mesh surface, a uniform herringbone structure.
Rib lath materials and finishes:
Galvanized steel rib lath;
Stainless rib lath in 304 and 316.
Expanded sheet rib laths designs options:
Flat expanded metal lath;
Light standard rib lath;
Expanded diamond mesh lath;
High rib lath;
Self-furred rib lath;
Dimpled mesh lath;
Grooved rib lath;
Paper backed rib lath;
Expanded lath of above design in combination with paper-backing with D, Double-D, or K paper.
Weight Specification
The expanded metal lath is commonly available in following weights:
1.75 lbs per square yard;
2.5 lbs per square yard;
3.4 lbs pounds per square yard.